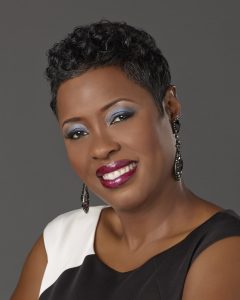 CARLA FERRELL
BIOGRAPHY
Born in Chicago, Ill., and raised in Houston, Texas, Carla Ferrell began her career in radio at KMJQ-FM in Houston, where she served as the morning show producer and co-host, before being promoted to assistant program director. She then moved back to Chicago and joined WGCI-FM and WVAZ-FM as assistant program director. During this time, Ferrell contributed to all three radio stations reaching number one in their respective demos.
In 2002, Ferrell moved to New Orleans, La., where she served as operations manager for WQUE-FM, WYLD-AM/FM and KSTE-FM, and helped lead the stations to top rankings. In August 2005, the weekend that Hurricane Katrina devastated the city of New Orleans and the Gulf Coast, Ferrell joined The Steve Harvey Morning Show as program director. Ferrell worked to create morning drive entertainment featuring music, compelling content, sidesplitting humor, current events, topical stories, and community issues. Shortly after, Ferrell was asked to join the show on air as a co-host as well.
Broadcasting live each day from 6 -10 a.m. EST, The Steve Harvey Morning Show is heard on more than 100 radio stations by nearly seven million weekly listeners. Launched nationally by Premiere Networks in 2005, it's the #1 syndicated morning show in America.
In February 2007, Ferrell added additional duties as program director for The Sweat Hotel. Nationally syndicated by Premiere Networks, the music-intensive radio show hosted by Keith Sweat features a mix of R&B and slow jamz, in addition to special guests, live in-studio musical performances, and listener confessions, apologies and dedications. The Sweat Hotel is #1 nationally syndicated Urban AC evening radio show.
Ferrell has garnered numerous industry awards including the "Office With A View" spotlight by Sister 2 Sister magazine in 2006; a "Program Director of the Year" nomination by Radio and Records in 2004; and the Midwest Radio and Music Association's "Grit Award" in 2002. The National Association of Black Female Executives in Music & Entertainment (NABFEME) named her one of the "Ten Most Influential Women in Radio" in 2001.
Ferrell holds a Bachelor of Arts in Communications from Prairie View A&M University. In her personal life, Ferrell draws inspiration from her husband, grandmother, other family members, and a tight-knit circle of girlfriends. In her spare time, she enjoys reading, listening to music and volunteer work.
# # #
Contact: Rachel Nelson
Premiere Networks
818-461-8057