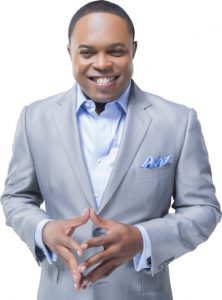 KIER "JUNIOR" SPATES
BIOGRAPHY
Kier "Junior" Spates, a native of Houston, Texas, is a gifted comedian and entertainer whose impressive resume boasts notable roles across a variety of media platforms.
As co-host of the nationally syndicated Steve Harvey Morning Show, Spates is known for his hilarious and high-energy commentary. Airing weekdays from 6-10 AM on more than 100 radio stations, the program is heard by nearly seven million weekly listeners and is the #1 syndicated morning radio show in America.
Prior to joining the program, Spates performed on stages across the globe with such greats as Aretha Franklin, Lyfe Jennings, Musiq Soulchild, Maze and Frankie Beverly, Gerald LeVert, Anita Baker and Anthony Hamilton. In 2012, he appeared as the opening act on Steve Harvey's Grand Stand-Up Finale comedy tour, with numerous critics dubbing him "The next big thing in stand-up comedy." Spates also lent his talents to USO Tours in Japan and Bahrain, and was one of the primary acts on the popular Rickey Smiley and Friends Show Tour.
In addition to receiving wide acclaim on the improv circuit all over the United States, Spates' standup has been embraced on college campuses as well. He's performed to sold-out crowds at the University of Southern California, Texas A&M, University of Houston, University of North Texas and Texas Southern University.
Spates has made many appearances on the small screen, receiving rave reviews for his roles on BET's Comic View and Getting Paid, just to name a few. He also appeared in the film Barbershop Blues as "Dre" alongside New Edition's Ralph Tresvant.
Spates has traveled with many hit stage plays, including Hinton Battle's Love Lies featuring Brian McKnight and Angie Stone, as well as Confessions, starring the late Gerald LeVert, Kelly Price and Tommy Ford.
In 2013, Spates signed on as the national celebrity ambassador for the Sickle Cell Disease Association of America, Inc. (SCDAA), after speaking out about his struggle with the disease. Together, SCDAA and Spates launched the "Rise Above" initiative, which aims to educate and raise awareness about the blood disease across the nation. Spates is also the founder of Kier's Hope Foundation (KHF), a non-profit organization benefitting those affected by Sickle Cell Disease.
Kier is a rising star as a writer and producer, earning credits for several shows such as the Emmy Nominated daytime television hit STEVE, the Miss Universe pageant, Showtime at the Apollo on FOX, and Little Big Shots.
# # #