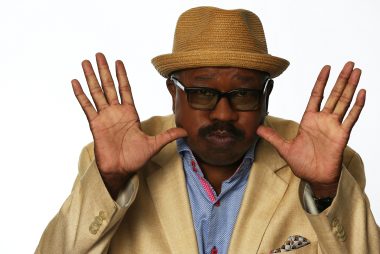 J. ANTHONY BROWN
BIOGRAPHY
Actor, comedian and veteran radio personality J. Anthony Brown joined The Steve Harvey Morning Show as a daily contributor in April 2017. Based in Los Angeles, Brown brings his comedic stylings and hilarious cast of on-air characters to the top-rated, award-winning radio program, which can be heard on more than 100 stations by nearly 7 million weekly listeners. Celebrating 14 years in syndication in 2019, it's the #1 syndicated morning show in America.
Brown has performed stand-up comedy all over the country, and his warm, relatable and irresistible style is showcased every weekend on The J Anthony Brown Radio Show. Along with his co-host Myisha, Brown counts down the top 10 R&B hits in the country every week in this two-hour program, along with celebrity news, games, and of course, his distinct brand of comedy.
Prior to joining The Steve Harvey Morning Show, Brown was a member of The Tom Joyner Morning Show for more than 20 years. The tailor-turned-comedian launched his comedy career in a gong show contest in Atlanta. Brown moved to Los Angeles to work in television, quickly finding a job as a writer on the late-night talk show The Arsenio Hall Show, and later, such sitcoms as The Parenthood and Me and The Boys. Brown hosted two consecutive seasons of BET's top-rated Comic View, and has performed on Vibe, Def Comedy Jam, It's Showtime at the Apollo, An Evening at the Improv and The Oprah Winfrey Show.
As an actor, he's had recurring roles on Moesha, Living Single and The Parenthood, as well as guest spots on The Parkers and Sparks. His work in film includes roles in Def Jam's How to Be a Player, Pay the Price, Drumline and Mr. 3000. The NAACP Image Award and Peabody Award winner is the owner of the J. Anthony Brown Collection and The J. Spot Clothing Store.
# # #
Press Contact: Affiliate Relations Contact:
Rachel Nelson Martin Melius
Premiere Networks Premiere Networks
818-461-8057 818-461-5453