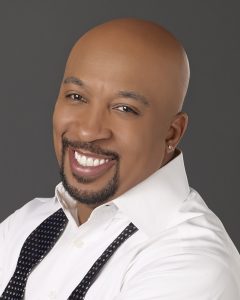 THOMAS MILES – "NEPHEW TOMMY"
BIOGRAPHY
Radio host, actor, comedian, producer, entrepreneur Thomas Miles, aka "Nephew Tommy," is making his mark on the world of entertainment. As co-host of the nationally syndicated Steve Harvey Morning Show, which airs weekdays from 6-10 AM on more than 100 stations, Tommy entertains nearly seven million weekly listeners. The program, which combines heart, humor, music and celebrities from the world of sports and entertainment, is the #1 syndicated morning show in America. Tommy provides a key role in the morning show, lighting it up with his own cast of colorful characters and zany humor, which are showcased in the fan-favorite segment, "Tommy's Prank Calls."
In 2018, Tommy added hosting duties for OWN's new dating series Ready to Love. The show explores the real-life dating interactions of sexy, successful and grown Black men and women in their 30s and 40s who are looking for lasting love and an authentic relationship. A unique twist on a typical dating show, Ready to Love, highlights the men's observations and experiences in the search for true love in Atlanta.
A multi-faceted entertainer and comedian, Tommy served as the exclusive Mainstage host for the Essence Festival in New Orleans for 7 years (2009 – 2016), which draws over 250,000 fans and features acts such as Beyonce, Janet Jackson, Alicia Keys, Mary J. Blige, Usher, and Kanye West. In 2017, he hosted the Time To Laugh event at Bishop T.D. Jakes Megafest.
Currently, Tommy continues to keep 'em laughing as he tours nationally in his sold-out stand-up comedy shows. He recorded his one-hour special at the famed Motor City Casino in Detroit, and once toured the U.S. for nearly three years as the exclusive opening act for the late, great Luther Vandross. "I had the choice of hundreds of comics to choose from, but in the end I choose Thomas Miles. His skill as an actor and comedian fits in perfectly with the classy and entertaining show I believe in presenting," said Vandross.
–more–
Page 2 of 2
In 2011 and 2013, Tommy traveled to over a dozen military bases in the Middle East with the Chairman of the Joint Chief of Staff USO Holiday Tour, where he shared his humor, insight and wisdom with thousands of military men and women. This interaction with soldiers, both stateside and around the world, inspired Tommy to establish Miles of Giving, a non-profit foundation created for the purpose of assisting wounded veterans.
At the center of Tommy's body of entertainment works and business ventures beats the heart of a gifted thespian. With years of experience starring in over a dozen stage plays and independent films, earning a Theater Arts degree, and working with the Royal Shakespeare Company of London, Tommy has honed his craft as an actor on both stage and screen. He has a number of films on his resume, including 2011's "N-Secure" and "The Heart Specialist" with Zoe Saldana; David Talbert's "Baggage Claim;" "Think Like A Man" in 2012 from the international best-selling book by Steve Harvey; and Tyler Perry's Boo! A Madea Haloween.
Though he enjoys a successful career as an entertainer, Tommy has also set his sights on the creation of a broader empire. Listeners of The Steve Harvey Morning Show often
hear Tommy refer to his affinity for curvaceous women. With an eye on designing clothes to make plus-size women feel sexy, comfortable and confident, he launched a fashion line called
Big Luv Denim, catering exclusively to full-figured women.
Whether in business, on the stage, big screen, television or radio, Tommy continues to demonstrate his remarkable talent to the delight of audiences worldwide.
# # #
Press Contact: Affiliate Relations Contact:
Rachel Nelson Martin Melius
Premiere Networks Premiere Networks
818-461-8057 818-461-5453